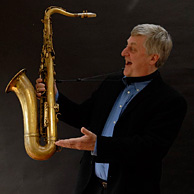 Alex Dean, one of Canada's foremost jazz saxophonists, has been a mainstay of the Canadian music scene for many years. He has played and recorded with Gil Evans, Kenny Wheeler, Aretha Franklin, Natalie Cole, Harry Connick Jr., Phil Nimmons, the Dave McMurdo Jazz Orchestra, the Toronto Symphony Orchestra, and the Hamilton Philharmonic Orchestra.
Alex held the tenor saxophone chair with Rob McConnell's Grammy award winning Boss Brass and, the Juno award winning Rob McConnell Tentet. He has collaborated extensively on C.D's as side man with Canadian and American Jazz Artists. The Alex Dean Quartet/Quintet recordings include the newly released At this Point (November 2010), Dreamsville, Both Feet, and Kaitlyn's Waltz. Kaitlyn's Waltz was voted Best Jazz CD of 1994 by The Jazz Report and one of the Top Ten Jazz CD releases by New York's Village Voice. He was also voted Jazz Musician of the Year by the Toronto Star.
The Alex Dean Quintet in the last couple of years is a relatively new group of highly regarded Canadian jazz artists assembled to record and play original music by Alex – Brian Dickenson, Lorne Lofsky, Kieran Overs and Ted Warren. The Quintet's latest recording opened to standing room only crowds at Toronto's Rex Jazz Club in November and will be playing/promoting their newest C.D. at various Jazz Festivals this summer including a feature date at The Toronto Jazz Festival.